Inspired Photographs  & Quotes
by Gloria R Nash
This 2018 wall calendar with inspired photographs and quotes was influenced by "A Course in Miracles," a spiritual psychology text with 365 Daily Lessons. All of the featured quotes are written by Gloria R Nash and are from "Nothing is Real but Love," her forthcoming guide to living a spiritual life. Gorgeous American cityscapes in full living color compliment each quote to engage your creative spirit to live with the joy of knowing that we are entitled to miracles in every situation.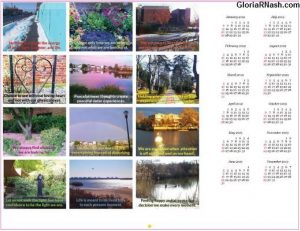 Keeps Your Focus on What Matters
Printed on highest quality paper, these 12 images and ideas keep even the most distracted person focused on divine vibrations each day of the year. Designed for the year 2018, this celebration of spiritual qualities such as energy, wisdom, faith, and miracles is never out of date. Each month holds our focus of attention on what really matters. The result? We are energized with more love, light, and laughter.
Measuring 8.5" x 11", this 2018 Wall Calendar is only $10.95, with FREE Shipping to the 48 States. Mailed First Class within one business day, with Free Tracking!
A perfect gift for friends, family, teachers, mentors, and especially for you!
Please note that calendars are not refundable.
All images and quotes are copyrighted to Gloria R Nash. No reproductions without permission.
!!! F A S T & IMMEDIATE SHIPPING !!!
*Restrictions Apply - US/48 only - Click for F.A.Q./Terms & Conditions 
*** SPIRITUAL GROWTH & ENERGY COACHING by GLORIA R NASH ***